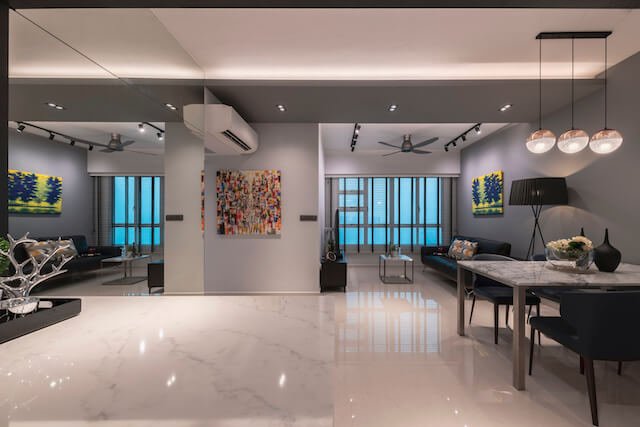 Simple And Great Ideas On How To Renovate Your Living Room
 Your living room leaves the first impression in the minds of visitors. It is also the place where all normal daily activities are done, and where you get to relax and enjoy yourself. Thus, it is only reasonable that you want your living room looking relaxing and great.
Creating a living room of comfort isn't as tricky as many fear. Your living room can get a significant face-lift by merely putting some ideas together. In other words, if you desire to renovate your living room or do something to change its ordinary-looking appearance, it can be done quite quickly.
Interestingly, by taking the simple ideas given here, you need not be an expert interior designer before transforming your living room into something amazing. With the help of an interior design consultancy, this can be done even when you're on a budget, and you can work around some essential household items and adjust a few things to achieve this.
Condominium interior design consultancy, as well as landed house renovation, are also available should you need help with sprucing up your space.
Here are some basic ideas you can work on to renovate your living room:
Emphasize on the size of the living room:
Everyone loves a spacious and expansive living room. When your living room looks wide and airy, it creates that impression of luxury and comfort. Thus, one simple tip is to ensure your living room doesn't get cramped up.
So while you attempt to gather fancy items to decorate the space, you don't want to clutter your living room awkwardly. But if you've got the space, flaunt the space! Make sure your furniture is not too clustered together, and get the areas cleared up.  It would surprise you how much adjusting your living room for more space can make so much difference in the appearance of your room.
Well, what if your living room isn't as big as you would like? You can create an impression of space by adding some lovely mirrors to the surfaces. This is a smart way to make your room seem more expansive than it is. Also, another great tip that helps you emphasize the size is in using a large, earthy rug. This automatically makes your living room look more spacious and accommodating.
Be creative with the lighting:
The same ordinary lights in your living room can become dull over time. You can, however, spruce things up by adding a variety of lights to specific parts of the room. Lighting is a critical element in any interior design plan. Combining a mixture of dim and bright lights of different variety brings some exquisite touch to your living room.
Touch up with some Greens!
Everyone loves a touch of nature. A bare living room can be brought to life instantly by simply adding some natural plants in vases and pots in different corners of the room. It would be advisable to let in some natural light at daytimes, as this would further make the place appear bright and beautiful.
From these few tips, a simple renovation can be done to your living room. The texture and appeal of your home can take on a pretty new appearance without much stress.