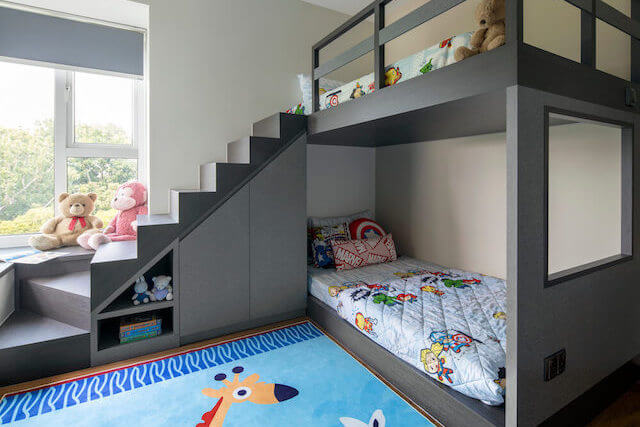 How To Design A Nursery For A Newborn's Brain Development
Remodelling your home may seem like a great thing to do, especially when you are a few months away from welcoming a newborn baby into your home. This is where you are more likely to be rocking your baby to sleep, read to them, feed them, and share a lot of parent-baby bonding.
The most important thing you can keep in mind when designing this space is to build a space that makes you relax, comfortable and smile. With the help of a luxury interior design firm, here are a few ways you can have a bedroom renovation for your new bundle of joy.
Choose Your Colours Wisely
As an adult, you may already have biases when it comes to the colour palette you wish to paint your home in. Before you paint the walls of your nursery with your favourite hues, you may want to consider how colours can affect your baby's development.
On top of being an essential element in the overall aesthetic of space, it can effectively influence an individual's emotional wellbeing, learning and behaviour. For newborns, colours and colour recognition is an essential learning and communication tool as they take in their surroundings.
Newborns who are 0 to 3 months in age will not be able to recognise colours but they will see their surroundings in the black and white spectrum. This means they can only see black, grey and white. Thus, opt for a monochrome colour scheme with contrasting shades, shapes and patterns for optimal visual stimulation. Studies have shown that doing so will boost a child's attention span, memory and nervous system development.
Babies who are 3 to 6 months in age will be able to see colour, with a preference for vibrant primary colours. Think yellow, red and blue. The good thing about starting with a monochrome palate means that introducing a pop of colour is relatively easy. You can easily include décors such as brightly coloured curtains or throws.
When your baby has reached 6 to 12 months in age, their colour vision is well developed. Thus, you can include an entirely different colour scheme into their room. Start by placing a colourful wall art, for instance. In fact, you don't need to go far as your child's existing toys and books can provide the colour scheme for brain stimulation. However, take note not to go overboard and allow a balance of stimulant and relaxation.
Introduce Textures
Similar to colour recognition, your baby will need to be exposed to different textures, especially when they've reached their 4-6 months period. It doesn't have to be limited to fabrics such as velvet, corduroy or cotton. Include other textures such as wood and fur. Look for décor that will introduce these different textures to your newborn. That said, ensure that the surfaces of these items are cleaned regularly as newborns have the propensity to put the items or their hands into their mouths. This also means to limit small items that can be a choking hazard to your baby.
Build A Corner For Resting
Similar to us, a baby's brain is also prone to overstimulation. So, be sure to create a serene environment that will allow your baby to rest and relax. Include black-out curtains to curate a space that will promote healthy naps and sleep. You can even consider installing a dimmer switch for late-night feedings or diaper changes, so that the baby can drift off to sleep easily. By creating a dark and quiet environment, you won't only help your baby's brain recover from the intense stimulation during the day, but it'll also promote healthy sleeping habit.
Designing a room doesn't have to be an expensive project if you know what to look out for. However, if you wish to have the help of professionals with years of experience under their belt, Thom Signature has more than a decade of experience in various residential projects including HDB and landed house renovation. Our team of interior designers will work closely with you to discuss your needs and realise the ideal nursery for you!
With the extended circuit breaker measures, you can still reach our team at Thom Signature on WhatsApp or book an e-appointment for all your interior design queries!