Resort-Style Condo For Multi-Gen Living @ 45 Simei Rise
Featuring warm and earthy tones, this condo features a multi-generational home with a set of parents, grandparents and three children. Multi-gen living brings different generations together and promotes stronger family bond and ties, for a better quality of life. As they live and grow together under one roof, the challenge is to create dynamic and flexible spaces that are favourable to both unity and privacy.
Aesthetics of the condo
Instead of the typical modern or luxury design condo, our client leaned towards a tropical and resort-style approach to its interiors. They were inspired by the condo site's idyllic surroundings of lush greenery and wanted to incorporate that element into their home as well. For instance, the bathroom renovation includes a rain shower feature with decorative plants that beautifully capture a resort vibe.
The challenge is to blend and unite the home's interior design with the external surrounding, instead of having a design that's mismatched or disconnected with a modern or Peranakan feel. We were able to transform their abode into a cosy, resort-like atmosphere that still offers a contemporary vibe – perfect for unwinding and spending family time together.
Approach to tropical resort style
Some of the key elements in this interior design include the bedroom wall which features a stunning koi pond and lotus flowers. This unique wall injects a breath-taking pop of colour for an elegant contrast against the consistent tones of grey used around the house – while keeping close to the resort theme.
From window panes to table tops, there is also plenty of wood uses for the entire house. By keeping to a soothing and natural material palette for most of the interiors, the unmistakable feeling of a resort can be replicated to offer a warm and inviting sanctuary.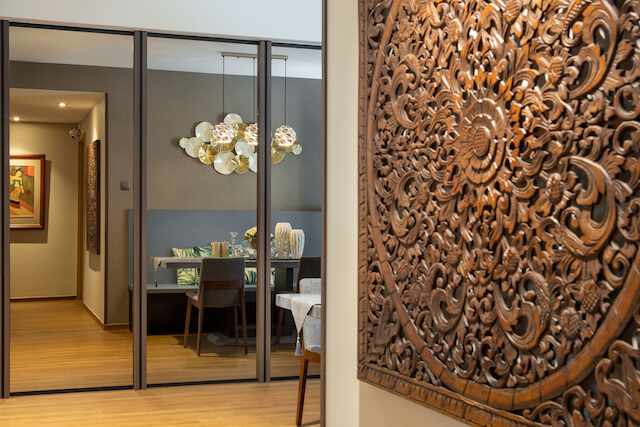 Adding mirrors does wonder to create the illusion of a larger space and enhance a home – especially in the dining area where family members would be gathered together. More than just providing reflection, the mirror walls also feature timber strip deco frame work as wooden accents to establish an optimum sense of consistency with the rest of the house.
The home's abundance of wood furniture and interior is complemented by a neutral wall with the occasional shots of colour. Getting down to the details, our client favours small decorative items and woodcraft, including décor artwork and photos, to be featured around the house that adds the finishing touches to a resort-style ambience.
Enjoy a retreat together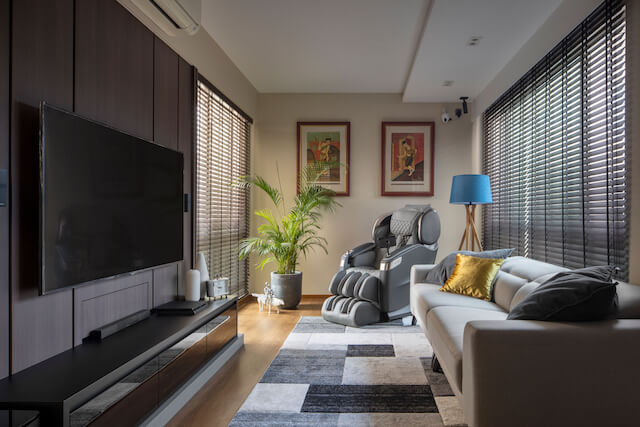 With more than one generation living under the same room, there is a need to create space for family members to have privacy but also come together for bonding time. This means the living room has to be comfortable, spacious and inviting for everyone to gather and enjoy a retreat vibe without having to leave home.
Our designers further proposed and chose the sofa and carpet with matching neutral and grey shades to complement the space and tie the whole look together.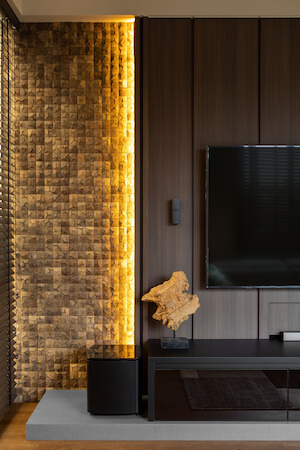 Coconuts are highly found widespread in tropical areas and they exude the ultimate resort vacation vibes. Thus, it is highly fitting that they became a part of the design element as a feature panel for the television wall. A design feature that is rarely found nowadays, these coconut mosaic shells lend an interesting texture and visual appeal to the space – bringing family members together.
With a keen eye on design, our team is able to incorporate the existing exterior design and unify it into our client's home while accommodating to the needs of its occupants. If you're looking for an interior design firm to transform your personal sanctuary, talk to our interior designers at Thom Signature today!