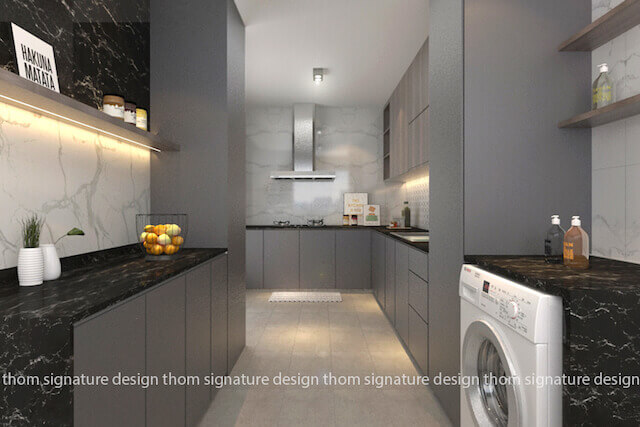 Furniture 101: Maintenance Tips For Natural Stone Furniture
To attain a luxury interior design aesthetic, one of the most straightforward methods is to include natural stone furniture in your home. Choosing and incorporating natural stone furniture into your interior design package is the first step, but the challenging part comes after: caring for it. You'd want to make the best use of your investment, which stands to reason why you will need to care and maintain the furniture in your home.
Furniture care is not common knowledge and even with your best intention, you might be cleaning and maintaining it all wrong! Worry not, this guide will breakdown the methods of maintaining 9 common types of natural stone furniture!
1. Marble
The most common material in modern luxury homes, its delicate veining adds another level of elegance into your home. Furthermore, it requires little maintenance. Whilst it isn't sensitive to kitchen spills, be sure to clean it up as fast as possible. Since acidic spillage will etch your marble, it also means you'll have to avoid using acidic and abrasive cleaners. Instead, a damp mop or sponge is your best bet. To remove stubborn stains, spread poultice paste over before covering it with a plastic wrap for a few hours till it dries. Scrape it off and wipe the area with a damp cloth. Repeat the process until the stain goes away.
2. Quartz Stone
Quartz stone is sought after due to its appearance, durability and ease of upkeep. To deal with basic spills, all you ever need is a wet washcloth and warm, soapy water. If the spill has hardened, you can either scrap it with a plastic scraper – never use metal – to chip away or use vinegar or oil-based stain remover to break down the stubborn residue.
On that note, do remember to spray quartz furniture with glass cleaner solution once a month, as the resin sealant can appear cloudy overtime.
3. Quartzite
Unlike many would assume, quartz and quartzite aren't the same. Quartzite is a natural stone whilst quartz is an engineered material. In fact, quartzite has a depth and detail that varies from one slab to another, giving it a somewhat organic look.
Whilst it may be less porous than most, it's best to get a sealant to prevent stains and bacteria growth. Similar to quartz, all you need is a damp washcloth and soap. Preventive measures are the best way to maintain its shelf life, so make use of coasters, hot pads and trivets.
4. Limestone
Not only does it have a subtle shade variation and beautiful veining, but limestone's high durability also makes it the perfect material as both interior and exterior design. However, its high porosity makes it prone to stains. The first step of protection is to first seal it every two years. Always clean spills immediately. Unlike other stones, don't use homemade cleaners and opt for special limestone cleaners. If you wish for a deeper clean, occasional steaming will do the trick. Make sure it's completely dry once you're done.
5. Travertine
Travertine is an excellent stone for those who favour the more rugged finish. Furthermore, it is also durable and has a low-density porous structure. Since travertine is a type of limestone, its maintenance practice is similar. Wipe spills immediately and always use a high-quality neutral cleaner.
6. Granite
As one of the most acclaimed natural stones, granite's durability, longevity and heat-resistant makes it a popular option when it comes to any kitchen surfaces. Take note of granite when you consider a kitchen renovation.
That said, since it's a porous material, you'll need to invest in a sealant to prevent stains and bacteria growth. Whilst granite itself is durable, acidic cleaners and harsh sponges can wear down your sealants. So opt for pH-neutral cleanser instead. Alternatively, you can use a mixture of baking soda and water or a combination of baking soda and hydrogen peroxide to rid deep oil-based marks and water-based marks, respectively.
7. Slate
Slate has been an attractive option for those who are looking for a natural stone that is slip-resistant, chemical-resistant, durable and also, economical. Since it withstands heavy wear and is also porous, maintaining slate is rather straightforward. Have it properly sealed and a damp rag with a mild dishwashing liquid is all you need.
8. Soapstone
Possibly one of the more appealing stones, soapstone is an excellent option for the kitchen. Its extremely dense attribute meant that not only is it stain-resistant, but household detergents can be used when cleaning. However, this stone is soft and its surface scratches easily. To remedy the scratches, you can use mineral oil and sandpaper for small and large scratches, respectively! Always use preventative measures such as cutting boards, to keep the scratches to the minimum!
9. Onyx
Also known as the "princess" in the list of natural stones, it is renowned for its translucency and gem-like characteristics. Out of this entire list, onyx is the most fragile. Seeing as how it's susceptible to chemicals and abrasive deterioration, you will need to seal it with fluorocarbon aliphatic resin-based impregnator sealer every 1-3 years. Homemade and abrasive cleaners are a no-no. Instead, apply pH neutral cleaners onto a washcloth – avoid putting it directly on onyx surface. Remember to blot your spills and avoid wiping or applying any pressure.
Conclusion
These are just a few maintenance tips for your natural stone furniture! If you wish to learn more, you can always look out for your interior design consultants. Unfortunately, do COVID19 and the extended circuit breaker, we are unable to serve you physically at this moment. However, you can always book an e-appointment or drop us a message on WhatsApp! We'll be there to answer your interior design queries.