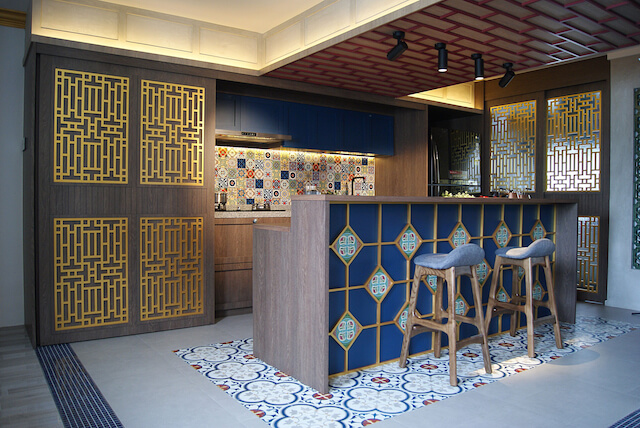 Bold Motifs And Tiles: Peranakan-Inspired Residence @ Simei St
The influences of a culture on a living space can generate unique interior designs – and this one is a celebration of Peranakan culture and heritage. Tucked in Simei Street, this 5-room HDB flat incorporates the Peranakan theme in a modern interior design concept while creating functionality.
Various elements of the theme are drawn out – colour, pattern and texture to reflect the intricate beauty and identity of the Peranakan heritage.
All these are boldly and creatively fused together to generate a harmonious interior style under one roof.
How it all began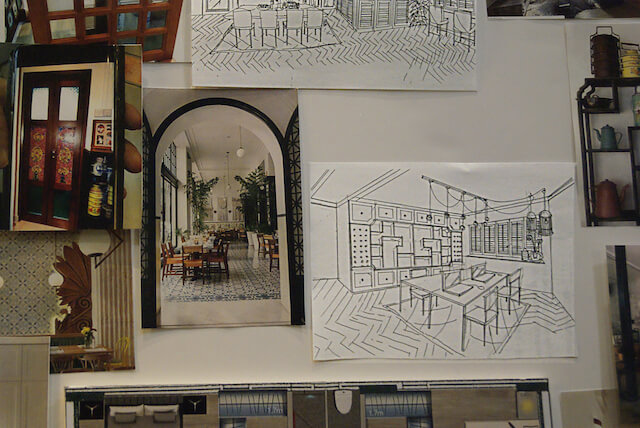 Behind every idea lies a concept that kickstarts everything. Our client wanted a fusion between Peranakan and French designs – we draw inspirations from existing designs and came up with sketches to capture ideas before turning them into a reality.
The client also wanted a feature wall with various tiles and motifs, thus we lay out the design in a comprehensible way which helps to envision what the space is going to visualise and come to life. This is also an important step between the team and client to brainstorm and collaborate together.
Combining an eclectic mix
Ornate cravings and bold patterns are key features of the Peranakan style. When a space incorporates a mix of those elements, it can be a challenge to work with. The need to having an experience and good eye is important – this helps to balance the contrasting styles to put together a look that is visually appealing without being overwhelming or excessive.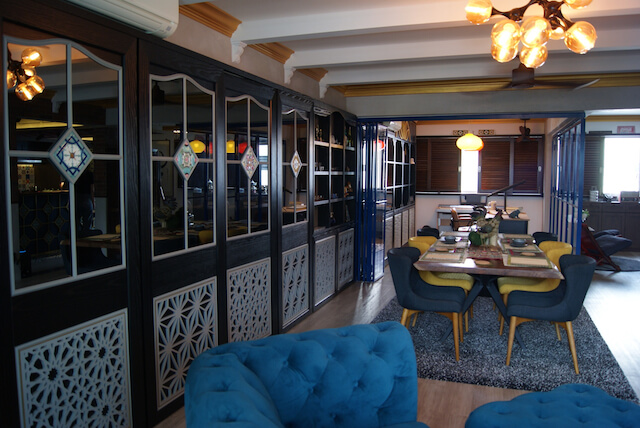 Working with different patterned Peranakan-inspired tiles, motifs and colours, the challenge lies in the ability to blend everything well. Here is where the use of solid colours in furniture, such as the dining chairs and sofa, comes in handy to tie the whole look together. With an acute sense of proportion and colour, the home is able to retain the intricate touches of the rich Peranakan heritage while staying contemporary.
Features of the space
While decorated in prints and patterns, that's not the only unique feature about this home. In the kitchen, a full-length sliding door cleverly conceals an area of the kitchen to reveal either the stove or the oven and storage. Inspired by traditional Japanese folding screens, this allows homeowners to participate in the kitchen without a myriad of things that distract the eye.
Look closely and you will find that a hidden door is built within the mirrored wall that hides the entrance to the bedrooms. It serves as a nifty feature to present a more streamlined look.
Framed glass walls surround the study area which can be opened up to join the living room and give a sense of openness. It adds a minimalist contemporary aesthetic while serving functionality to promote a harmonious flow of space. This is especially great for entertaining guests. The panels are stacked neatly against one another which saves up space, while ensuring it can still retain some privacy when pulled out.
All in the details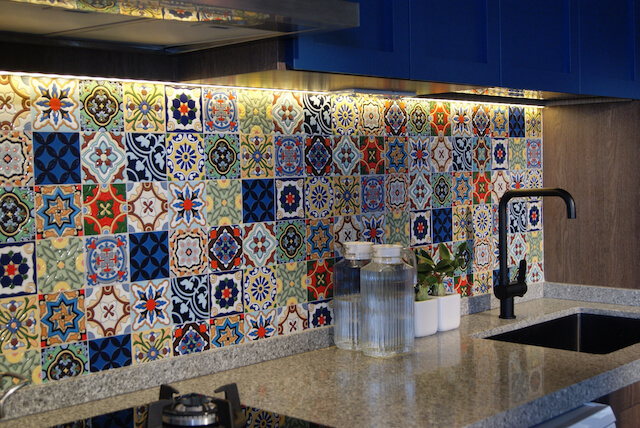 Elaborate and beautiful, this feature wall is certainly one of the eye-catching parts of the house and showcases Peranakan-style motifs heavily. This, together with the vibrant patterned flooring, are balanced with the dark wood cabinets and granite counter tops.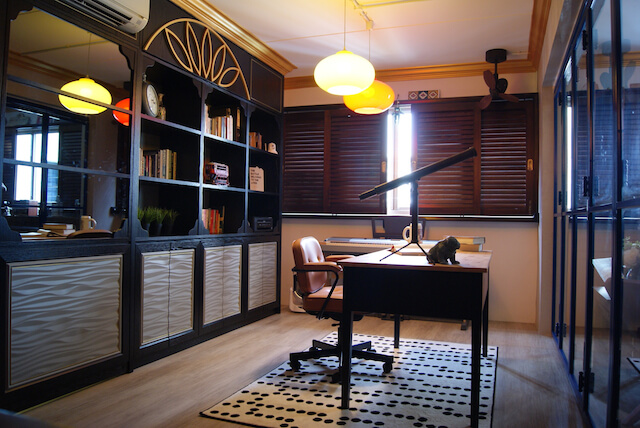 The client was particular about the detailings, so we made sure to deliver. They also bought certain items for the house and we had to ensure they can be incorporated in to achieve a cohesive look.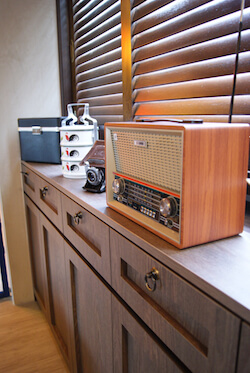 Something new in something old. Vintage and charming old-school décor adds a nostalgic factor that complements the overall theme well.
Varied print tiles are found in different parts of the house to give a splash of colour on the floor. The bathroom renovation includes a beautifully-decorated sink bowl with medallions which adds a colourful Peranakan twist to this home's interior design.
Conclusion
Through quality details and thoughtful choices, we are able to create an abode that's full of character yet comfortable. With a keen eye and sense of design, our team is able to capture the essence of a Peranakan-inspired style and achieve an authentic interior.
Getting the right interior design firm is crucial to help transform your home. Our passion is always to create spaces that are refined and functional with some personality – talk to our interior designers at Thom Signature today!